COEFFICIENT: PRE-ORDER UPDATES
Welcome to the
PAR WEBER community.
Here is where you will find the latest news on the Coefficient and production progress. If you are pre-order holder, you will also receive the below information in our email updates, but this page may include additional minor updates that we will share between email blasts.
As always, if you have any other questions along the way, feel free to reach out to info@parweber.com and we'll get back to you within 1-2 business days.
---
UPDATE August 2, 2020
A big day for us last week - we received a handful of preproduction units for inspection prior to final assembly. They look and feel superb. Below are a couple snapshots.
We're excited to announce our target shipping window for pre-orders: the first week of September.
So sit tight, it won't be much longer before your timepiece is on its way to your door. We'll send another note to confirm we're still on schedule in a couple of weeks.
Now that we have a target ship date, we will be discontinuing updates to this page. We'll leave it up for another week or so, but otherwise you can find any relevant updates in our public communications.
---
UPDATE June 9, 2020
An Early Look at What's in The Box.
Here's a look at what you'll get in the box with your order of the First Edition Coefficient:
Product literature, including authenticity document

Spring bar tool and extra spring bars for swapping out straps

An olive drab "Weber-Type" nylon strap. This strap is a hybrid between a NATO strap and a Zulu, which gives it a number of different sizing configurations (which we'll discuss in more detail in a future update and video)

The Coefficient itself, with black leather strap and PVD buckle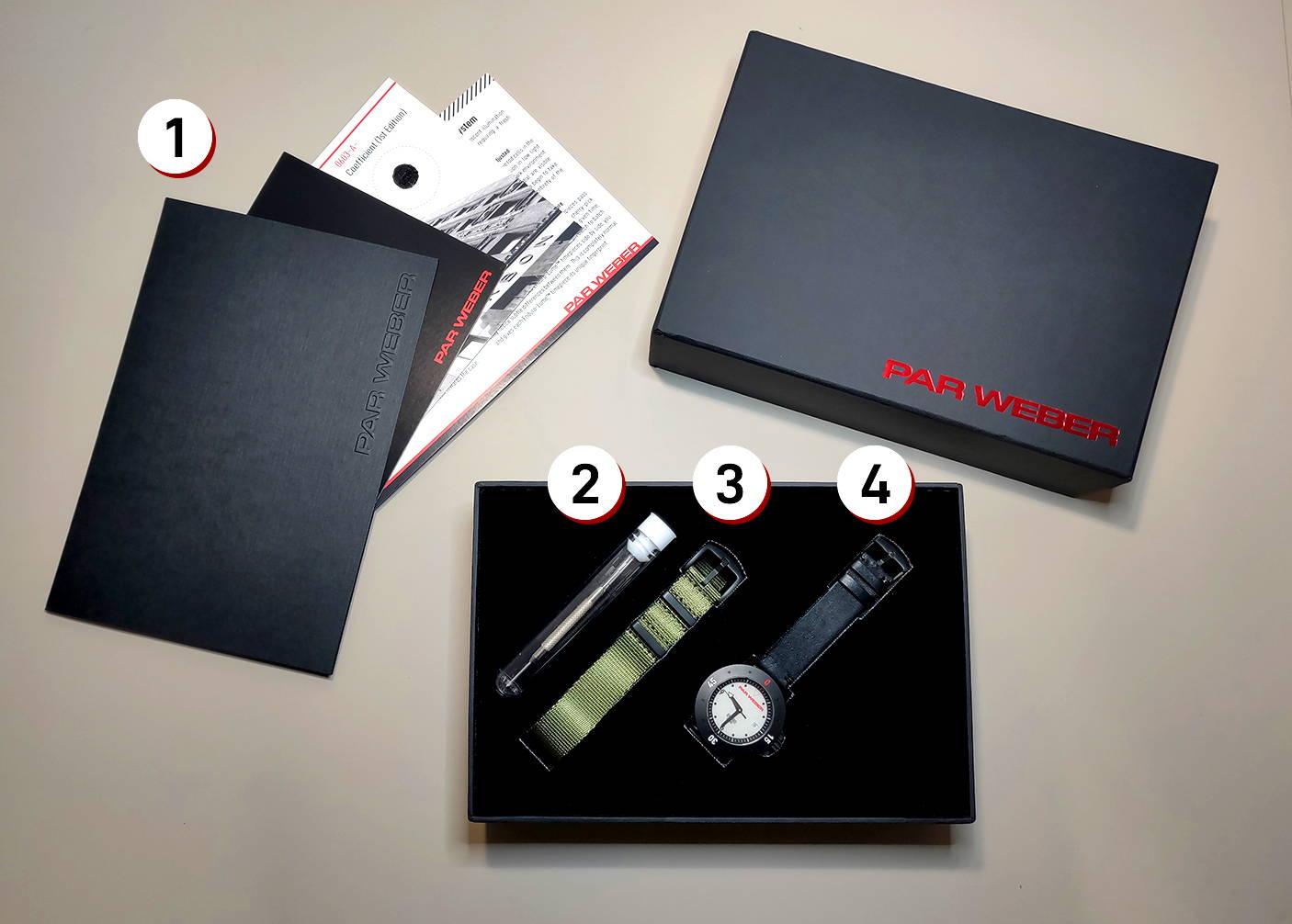 Our mission is to design and deliver superior equipment, and big part of that is to work with supply chain partners we know and trust. All of the packaging here is made in the USA.

The box itself is made here in the city of Chicago, in a plant located about 15 minutes from our workshop.
Sourcing locally enables us to be supremely confident in the quality of product we make - from the Enduro-Lume™ illumination system inside the timepiece (manufactured with partners in multiple states) to the packaging you see here. We're proud to partner with American manufacturers and support the continued regrowth of this sector.
---
UPDATE May 12, 2020
Enduro-Lume™ Systems Are Headed to Switzerland
The Enduro-Lume™ units, made here in the U.S.A., are completed and we are shipping them off to our manufacturing partners in Switzerland.

One of the key innovations in the Enduro-Lume™ system is the precision engineering that enables it to capture very small amounts of light and make it useful. As a result, we've gone through many, many rounds of tooling trials to get things just right. But we're extremely fortunate to have great partners here in Illinois who have been more than up to the challenge of this high-performance manufacturing.

Here's a snapshot of a set after final QC and prior to shipping:
We are also pleased to report that we still on target to ship this Summer 2020.  As production moves along we'll be able to narrow the window of when pre-order holders can expect their units to ship.
---
UPDATE April 3, 2020
We hope you and yours are safe during this previously unimaginable public health crisis.
We've been communicating closely with our supply chain partners and at the moment we are still hopeful we can maintain our target to begin shipping units in Summer 2020.
However, this depends to a huge extent on the developments of the next 1-2 months. The Enduro-Lume systems are still awaiting a final manufacturing process and quality control here in Chicago before they will be shipped to Switzerland to be assembled into the watches. Our Swiss partners have launched production of the watch parts (some in-house, some via subcontractors), but Switzerland - like Illinois - is currently under a stay-at-home order.
You will be the first to know of any production delays due to the coronavirus pandemic, should they occur.
---

UPDATE February 25, 2020
Pre-orders are now open for invite holders! Welcome aboard. We'll keep you in the loop on this page and via email as production continues.
---

UPDATE February 21, 2020
Just announced: pre-orders will open for invite holders on Tuesday, February 25th.
---

UPDATE February 13, 2020
Pre-orders for invite holders open in less than two weeks! Stay tuned for more very, very soon...
---